Best Sushi In Wasabi Sushi Bar
Official Sushi Restaurant of the St. Louis Rams
Welcome to Wasabi Sushi Bar – The Culinary Gem of St. Louis
Discover the Art of Sushi at Wasabi Sushi Bar, celebrated as the Best Sushi in town. Our chefs are masters in the art of creating flavorful and visually stunning dishes, ensuring each visit is a unique culinary adventure.
Indulge in the freshest ingredients, sourced daily, and experience a delightful fusion of traditional and contemporary sushi that tantalizes your taste buds. Whether you're a sushi connoisseur or trying it for the first time, Wasabi Sushi Bar offers an exceptional dining experience in the heart of St. Louis.
Join us for a gastronomic journey where tradition meets innovation, and every dish is a celebration of taste and authenticity. At Wasabi Sushi Bar, we're not just serving sushi; we're serving memories.
Enjoy the Best Sushi Experience – Only at Wasabi Sushi Bar.
Explore Our Sushi Insights in the Wasabi Blog
---
---
Restrictions
This offer is valid for dine-in customers only, and it is only valid at our four St. Louis area Wasabi locations: Downtown St. Louis; Clayton; Warson Woods, MO; Edwardsville, IL.
Wasabi Sushi Bar #5
Located NE of Kirkwood, MO in
Warson Woods, MO
9983 Manchester Road (Formerly Sansui)
Want to be your own sushi chef? Join us for Wasabi Culinary to learn how to make your own sushi! Wasabi Culinary meets during lunch from 12 p.m. to 1 p.m. on the first Monday of every month at our Warson Woods,MO location. For $20, you'll make your own nigiri and maki, learn the proper way to eat them, and be treated to other favorite Wasabi dishes. We promise a rockin' and sushi rollin' time!
Wasabi Culinary is limited to 15 guests per session.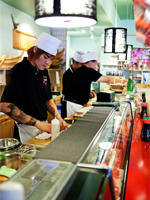 Have openings for Servers and Chef Positions at the Warson Woods, MO Location – will train!